About us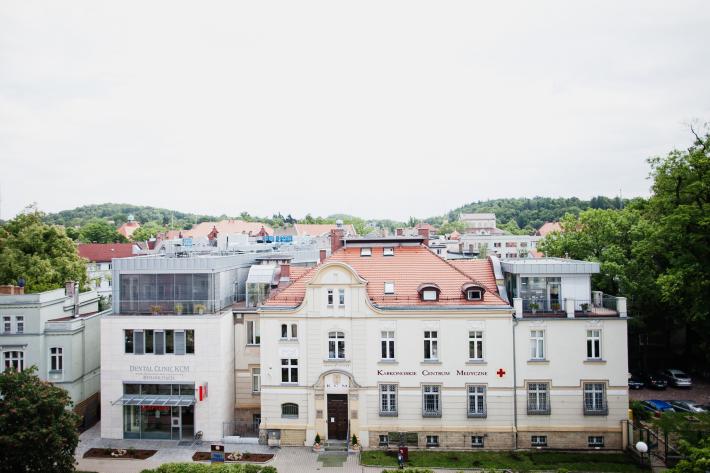 KCM Clinic is a modern, fully-equipped private hospital located in the heart of the Karkonosze region in Lower Silesia, Poland.
Our main facility is situated in the centre of Jelenia Góra in a beautiful historic building that has been completely renovated and adapted to accommodate patients with mobility issues.
Founded in 2006, originally as "Karkonoskie Centrum Medyczne", we work in cooperation with the Polish Public Health Service (NFZ) to provide all patients with world-class medical treatment.
In 2009, KCM Clinic received the ISO 9001 Quality Management Certificate and subsequently in 2010 construction began on a new hospital wing. The highly specialized hospital wing, equipped with state-of the-art technology, was officially opened in 2011 and includes two modern multimedia operating theatres, an Inpatient Department, the Day Case Surgery Clinic, a Rehabilitation Complex, and Dental Clinic. We offer high-standard single and double rooms with private bathrooms, TV, Internet and Wi-Fi.
Thanks to a successful partnership with Sanford Health (USA) since 2012, our doctors continue to broaden their medical knowledge and enrich their clinical experience in order to provide our patients with the best care possible.
KCM's founding mission is to offer patients comprehensive medical care and access to the latest advancements in the field of medicine. We pride ourselves on our patient-centred approach and welcome patients of all ages. We strongly believe that with our committed doctors, access to innovative medical technology and highly-qualified staff, we can help every patient, who walks through our doors.
Today, KCM Clinic is recognized as one of the leading Bariatric Surgery and Minimally Invasive, Endoscopic Spine Surgery clinics not only in Poland, but also in all of Europe. KCM Clinic is one of only a handful of hospitals in Europe that utilize the newest 3D Laparoscopic methods to ensure the highest quality in patient safety.
In 2017, KCM Clinic's Bariatric Surgery, Gynaecology, and Spine Surgery Departments all received GCR International Accreditation and in March 2018 our Bariatric Surgery Department secured #1 in a ranking of the "Top 10 Bariatric Surgery clinics and hospitals in the world".
Additionally, KCM Clinic functions as an educational centre for doctors, with regular international conferences and workshops organized to showcase the latest surgical techniques through LIVE video transmission from our operating theatres. KCM is a partner centre of excellence for such leading medical technology companies as Johnson&Johnson, Olympus, Joimax, Srtex, Zimmer Biomet, and Straumann.