Tourist attractions
Karkonosze is one of the most frequently visited regions of Lower Silesia. It attracts both tourists seeking peace and tranquillity, as well as sports enthusiasts. Karkonosze is the highest range of Sudety, with its top being Śnieżka, reaching 1603 m a.s.l.  Called the Giant Mountains, they are rich in interesting rock formations, cirques and waterfalls. Their unique natural value has been protected by the Karkonosze National Park for over 50 years.
On the other side of Karkonosze, separated by the Szklarska Pass, there are the equally beautiful Jizera Mountains. Wild nature, clean air and peace enchant everybody, and non-commercial character of this region brings peace and respite from big city noise.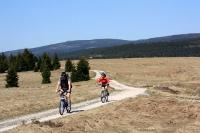 It is also an ideal region for mountain cycling. Cycling tracks run along picturesque forest and gravel roads, and their mixture makes cycling interesting. Riding a bike along mountain tracks is a fantastic experience, active pastime and a possibility to enjoy the beauty of the nature.
Szklarska Poręba is a well-known centre of winter sports, with numerous ski routes for skiing and snowboarding enthusiasts. It is also a perfect starting point for bike trips exploring Polish and Czech Karkonosze, Jizera Mountains and towns on the other side of the border. Cycling routes in Szklarska Poręba join Harrachov cycling routes in Czech Republic, and this way a cycling trip can be a trip abroad.
Harrachov town, 35 km away from Jelenia Góra, is the best known tourist centre in Czech Karkonosze. It is an excellent place for all skiers, who can enjoy numerous ski routes. In Harrachov there is the K-185 ski jumping facility, at which the World Championships Ski Flying Competition is held.
Jakuszyce are famous for world championships cross-country skiing competition. Here you can meet the Olympic medallist, Justyna Kowalczyk, who on the Jakuszycka Glade won the World Cup skiing competition.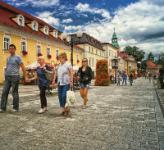 One of the most beautiful tourist places is Karpacz, located at the feet of Śnieżka. Unique views, numerous tourist attractions and unlimited possibilities for spending time actively make Karpacz a must-see place. In the vicinity of Jelenia Góra lies another place worth recommending – a health resort Świeradów-Zdrój. The town, located on the board with Czech Republic, is famous for its healing mineral waters and pure air. Its cold, humid and healing climate has beneficial effects on heath and improves immunity.
Cieplice Zdrój is also well known as a health resort. Considered as the most beautiful part of Jelenia Góra it owes its name to the hottest thermal springs in Poland. Their healing properties are used to combat numerous rheumatoid and motor organ disorders. In Cieplice there is a recently revitalised Park Zdrojowy, inviting for walks and participation in cultural events organised there.
Valley of Palaces and Gardens
At the feet of Karkonosze lies one of the most unique places in Lower Silesia – the so-called Valley of Palaces and Gardens. Gothic castles, fortified towers, Baroque palaces and Renaissance manors were erected there by the most renowned architects of their times. Among them there is the Palace in Wojanów, from the end of the 13th century, surrounded with the beautiful landscape park. Currently the Palace is used as a venue for numerous concerts, exhibitions and theatre performances. You can also stay at a hotel, use a conference centre or a restaurant.
11 places in the Valley of Palaces and Gardens were listed in the RP President's Heritage Monument as "Palaces and landscape parks of the Jelenia Góra Valley":
Bukowiec – palace and park complex, Mysłakowice commune;

Jelenia Góra – palace and park complex "Paulinum";

Jelenia Góra – palace and park complex Schaffgotsch in Cieplice;

Karpniki – palace and park complex, Mysłakowice commune;

Karpniki –"Dębowy Dwór" villa with a park;     

Kowary – palace and park complex in Ciszyca;

Łomnica – palace and park complex, Mysłakowice commune;

Mysłakowice – palace and park complex;

Staniszów Górny nr 100 – palace and park complex, Podgórzyn commune;

Wojanów – palace and park complex, Mysłakowice commune;

Wojanów-Bobrów –palace and farm complex, Mysłakowice commune.
More information can be found at: http://www.dolinapalacow.pl
Jelenia Góra is the capital of Karkonosze and the region's transport node. It is a city with interesting history, numerous historical monuments and the most beautiful Baroque market in Lower Silesia.
Amongst many worth-seeing places, you must certainly see:
• City Hall – from the beginning of the 16th century, restored in the Classicism form after its part collapsed in the 18th century. An interesting fact is that in the old days in the Hall there was a wooden statue of Prince Bolesław III Wrymouth in the royal attire.
• Fountain with a Baroque Neptune statue, from the middle of the 18th century, symbolising extensive commercial contacts of the city with the whole world.
• Defence walls – erected in the 16th century, once they encircled the whole city. To this day remained: Wojanowska Gate Tower with St. Anne's Chapel and Castle Tower from the 16th century. Recently the Wojanowska Gate was restored in its old location.
Recommended cultural events:
• International Street Theatres Festival in Jelenia Góra
• Cieplice Spring
• Jelenia Góra Rock League
• Jelenia Góra Medieval Fair
• Jelenia Góra Theatre Meetings
• International Organ Music Festival "Silesia sonans"
• International Jazz Music Festival "Krokus Jazz Festiwal"
• Comic and Independent Films Festival BAREJAda
• Polish Explorations of Theatre Art and Avant-garde Culture "PESTKA"
• September in Jelenia Góra
• Karkonosze Festival of Light
During your stay at KCM Clinic we will help you to use the time spent in Karkonosze in the best way possible. Your personal Atendant will arrange trips you are interested in, with an eye to every detail.
WE CORDIALLY INVITE YOU!